Instructor: Rainsong
Date: December 23, 2017 (Saturday)
Rainsong
Good evening, ladies and gentlemen.
Rainsong
Welcome to another psionics seminar here at the social club.
Rainsong
As usual, we'll be discussing real-world psionics. If you're looking for a role-playing game, you might want to try a different channel before you get too weirded out. (We have nothing against RPGs, and many of us are also gamers, but it's good to know what you're getting into, yea?)
Rainsong
Our topic for the evening is "Scanning, preliminary exercises", because Silton requested it earlier this afternoon. Silton appears to be offline at the moment.
Rainsong
There'd also been a request for a lecture about using "outside energies" earlier in the week, but the topic was rather thoroughly covered at the time of the request.
Rainsong
Are there any questions or comments, before we jump into this?
Scelana
Can't think of any atm
B.O.X.
Nope
Rainsong
The first exercise uses touch and the flat of the hand. Do both of you have the use of at least one hand?
Scelana
Yep
B.O.X.
Absolutely
Rainsong
Perfect. (If it were not the case, we'd do a different one. No problem.)
Rainsong
Choose a relatively flat part of your body that is relatively convenient to reach with one hand. (If you have the use of both hands, use the one you normally don't write with, for this exercise.)
Rainsong
Usual "flat spots" are the opposite forearm, the top of either thigh, or the tummy.
Rainsong
Set your hand on it, palm downward and relatively flat. It can be curved a little, no worries. Fingers should be reasonably relaxed. Doesn't matter if they are together or spread.
Rainsong
Slowly lift the hand away from the flat part, to a distance of 18"/45cm or so, and slowly move it back again. Do this several times – slowly.
Rainsong
Do you notice a change in sensation at any point along that movement?
Turbo
Honestly feels like im 'charging' my hand
Rainsong
Hi, Turbo.
Turbo
Hi Rain 😀
Rainsong
😀 And in this "charging" feeling, does it change at all, along the route?
Turbo
Yes
Rainsong
Please notice where it changes.
Rainsong
(It might change in more than one location. And the sensation change can be widely variable. Just make a note of what it is.)
Scelana
Within touching to so far from my leg i feel it pretty much the same but after that distance theres a more sudden difference
B.O.X.
Not sure what I was supposed to feel, so completely unbiased: on the way back down, I felt something at about 12" distance that stayed continuous even when I put my hand back. Beyond 12", different?
Turbo
It seems to get strongest the further I move it away
Rainsong
Good reporting. 😀
Scelana
Its roughly in the 4-6" distance range for me it seems
B.O.X.
Totally a "pressure/gravity" sensation
Rainsong
Now, please try the same thing with the other hand, if you can. If you can only use one hand, please try it with a different flat spot.
Rainsong
B.O.X.: Pressure/gravity is one of the more common ways for this sensation to manifest.
Rainsong
Scelana: Sounds good. Distance will be variable, from day to day and for different folks.
Rainsong
Turbo: That happens sometimes.
Turbo
It 'somewhat' feels the same, but there's a different sensation I can't put my finger on
Candra
I just feel tingly
Candra
12-18in
Scelana
Getting some different sensations ranging from difference in warmth to like ive crossed thru a passable barrier and going thru something to even what makes me seemingly change the rate of approach
Rainsong
Turbo: not to worry. The important thing is to notice where it changes, even if you can't describe it right at the moment.
Rainsong
Candra: Good stuff.
Rainsong
Scelana: nods That's perfectly reasonable.
Rainsong
Well done, everyone.
Rainsong
Any questions or commentary at this point?
Rainsong
This is, obviously, an exercise for "feeling" stuff.
B.O.X.
It reminds me of "psi-signatures" in a more felt way than the abstract way done in the mind
Rainsong
nods What we were "feeling" around at is the edge of either your field or the boundary between two layers of your field. For this exercise, it doesn't matter which.
Rainsong
It's a good general-purpose exercise, and you can practice it almost anywhere.
Turbo
Very neat
B.O.X.
Ooooo I could totally tell there were layers
B.O.X.
Was afraid to be like "I found layers!"
Scelana
I felt at least something like that too
Candra
Your energy is like an onion :laugh:
Scelana
Like thinner and thicker density areas
B.O.X.
Haha
Scelana
But in layers
Rainsong
Good job, everyone.
Rainsong
We're going to look at a "visual" exercise next.
Rainsong
Keep in mind that most people have a "sense" that they favour for translating psychic data, and other senses that don't translate as often or as well for them. That's okay. We're looking at more than one mode so you won't have to be worried about "This didn't work for me… can I still scan?"…. Not that it seems to be a problem for any of you this evening.
Rainsong
Do you know what it means to steeple your fingers?
Scelana
Not really
Rainsong
With your palms facing together, put your two thumbtips together, the tips of your pinkies together, the tips of your index fingers together, the tips of your middle fingers together, and the tips of your ring fingers together.
Rainsong
Keeping each pair of fingertips together, move your palms away from each other, and spread the fingers apart from the fingers beside the. Fingertips still together in pairs.
Rainsong
It'll look a bit like you've chosen a weird way to describe a ball with your hands.
Turbo
Nonsense. I always use this method to explain a ball
B.O.X.
Think I've got it figured out
Scelana
Ahh kk
Fox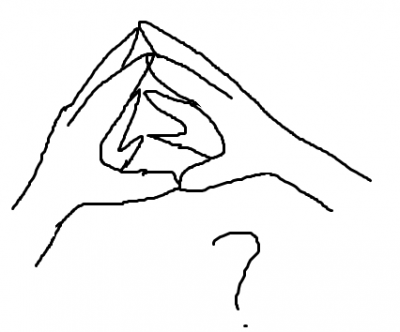 Rainsong
Turbo: excellent. 😀 Then you have no trouble
Rainsong
Fox: Exactly 😀
Rainsong
If you have a choice, don't face a light source while doing this one. You might want to turn so your monitor's beside you, instead of in front.
Rainsong
Starting with your hands in this steepled position, watch where the fingertips meet, and slowly move your hands away from each other.
Rainsong
Remember to blink! We're not going for illusions by way of eye-fatigue here.
Rainsong
Slowly move your hands away from each other, and then back again, and away, and back….
Rainsong
Do you notice anything?
Turbo
almost looks like I'm looking through some really clean water.
Rainsong
Turbo: Good descriptor 😀
Scelana
I can see a slight blurring effect esp if my fingertips are closer to each other and a slight blur that's consistently around the fingers
B.O.X.
This is hard because of the static in my eyes, but I want to say it almost looked like having some kind of stretchy goo extended between the space of the paired fingertips
Rainsong
Excellent. Sounds like everybody's getting good results with this one, too.
Fox
a grey line but it is vertical between the ring finger and pinky finger
Rainsong
nods Sounds good.
Rainsong
Folks will see different things, depending on what their field is doing at the time, but noticing a difference that isn't the afore-mentioned eye-fatigue is the aim of this exercise.
Rainsong
It's another exercise that's easy to do just about anywhere.
Rainsong
A slight variant is to move the finger tips closer together as though you're pulling toffee when you move your hands apart. Turbo: You'll probably encounter that charging feeling with this variant.
Rainsong
Anyone want to give it a go?
B.O.X.
So like, you move your palms away from each other but keep your fingers paired a bit longer?
Rainsong
Pretty much, yes.
Turbo
Brb. Have to step away for a fewe
B.O.X.
Ah, k.
Rainsong
Be well, Turbo
Scelana
I see a narrower but stronger blur effect area doing that
Fox
closer togehter in what way?
Rainsong
Good stuff, Scelana
Rainsong
Fox: In this variant, your index fingertips and pinkie-tips would be closer to your thumbtips.
Candra
Going off the road – will try anything missed once home
Rainsong
The "ball" your hand is describing became long and narrow
Rainsong
Candra: be careful, and good luck
Scelana
Safe travels Candra
B.O.X.
Hmm. Maybe a kind of warping appearance within the empty space of the hands. I'm sure there's an example of that appearance…
Rainsong
Good description, B.O.X.
B.O.X.
Like a trampoline that is kept taught with stakes, I guess?
Rainsong
I've usually thought of it as the look of "heat distortion" like one might see over a car's hood/bonnet or over the pavement in hot weather
Rainsong
Any questions or commentary on this one?
B.O.X.
None here
Scelana
None either
Rainsong
There are more exercises, if anyone is interested.
B.O.X.
Definitely interested, just gonna go grab a bottle o' water.
Scelana
I'm interested as well
Fox
when pulling the hands apart like a toffee do they come back together as a steeple again?
Rainsong
Fox: Yes.
Rainsong
The next one takes a bit of imagination.
Scelana
Hmm one part of right side of me is kinda warmer than the other and the area there feels warmer in general if i put my hand round the right of that area it though its like some spots are warmer than others. Like something is near me hehe
Rainsong
Imagine a doll-size version of yourself floating in the air in front of you, at a nice convenient distance.
Rainsong
You can picture it as a doll or as a 3D representation on a screen like you see for gaming character generation sometimes….
Rainsong
Concentrate on that imaginary doll-thing representing your body and field.
Rainsong
Feel around it with the flats of your hands, and also take a look visually. See if you notice anything around or on it.
Scelana
I kinda feel a slight difference near the right side oddly enough closely to where I'm actually feeling warmth on my actual right side atm Also feel noticeable chill round the head region for some reason
Rainsong
That sounds promising.
Rainsong
Remember: at this point, we're not doing interpretation yet. Just the actually feeling/looking around.
B.O.X.
The doll feels like it has a field much like the first exercise. Even noticing those layers
Rainsong
Very good, B.O.X.
Rainsong
This same approach can be used to scan other people's fields, too. Just imagine the otherperson as the doll, instead of yourself.
Rainsong
Questions? Commentary?
B.O.X.
I noticed it seemed to help to up-scale the doll size and put more into imagining it there, detail wise. Gave myself a moment to give it one of my shirts… helped to scan it slowly, too
B.O.X.
By upscale I mean "big enough to tell between a leg and a head," I started very tiny haha
Fox
out of curiosity, is it possible to use a drawing of myself for this?
Scelana
While having eyes closed would taking the vision out foward then flipping it around to where you're staring at youself be a way of also looking at yourself?
Scelana
Or eyes open for those who don't need eyes closed?
Rainsong
B.O.X.: Good point. I should have indicated that usually a good size to start with is around 18"/45cm tall
Rainsong
Fox: Yes, indeed.
Rainsong
Scelana: You can use either of those. Try both and see which is more comfortable for you.
B.O.X.
I think both tiny and large were good though. When I had it tiny, I was picking up on the whole field at once pretty easily.
Rainsong
Fox: (Off-topic) You can also use a picture of yourself for a variant of acupuncture, poking the picture with pins instead of poking your real body with needles.
Rainsong
BOX: Good stuff. Yes, indeed, feel free to change around the size, spin the doll around, or make whatever adjustments you need to, to be able to feel or see it conveniently
Scelana
I saw for a quick bit in an area a bunch of thin like slightly glowy lines that crossed each other and/or curved at various points
Rainsong
Scelana: very good 😀
Scelana
Bit harder to see for long but I see things in more detail then vs the doll it seems
Scelana
Size difference i guess hehe
Scelana
Swear I just saw a faint outline like shape beside right of me, kinda dog/puppy like? With it's head laying down pointing towards foot of bed and pointed ears. Hmmm
Rainsong
Possibly.
Scelana
Was very quick and faint visual but is in the area of warmth & such I've been noticing recently hehe
Rainsong
Ahh, potentially a little construct guy from your instructor?
Scelana
Possible, with some the methods I get more of a living feel and pulsing of some sort almost like breathing or something
Turbo
Urg that took longer than I thought. I'll have to read up
Scelana
Wb
Scelana
Hearing puppy yaps and panting and I feel like I'm being stared at now hehe
Scelana
He's a warm little thing, almost slightly burny like but not painful/harmful like burny. Sure is helping me feel warm where he's at hehe
Scelana
I was recently given a pup by my teacher so kinda excited I may have finally seen a bit how he looks like. Was only given, never told any details of look, size, etc. Was a bit hesitant to want to mention him round this server cause worried of reactions it might cause
Rainsong
Puppy constructs (we used to call them "puppy winds") are fun little critters.
Candra
Mm, got nothing on the visual exercise
Scelana
I need to note down all I saw with my impaired senses today and what i was doing & times. Instructions from a person involved in my pupilship to help figure out what's going on with my impaired senses
Scelana
I named my pup Galliard Pronounced like Gaal lee ard Mainly yaps and whines with some panting for communication so far
Rainsong
Candra: Not to worry. It doesn't work for everybody on the first try.
Rainsong
Galliard, like the dance?
Scelana
It's an actual name
Candra
Trying to look for something that can't be dismissed as light distortion caused purely by movement
Scelana
Means: brave, cheerful, spirited, dandy, joyous, forceful(strong and vigorous)
Rainsong
Sometimes, nothing at all is seen. Sometimes there's a very pale "questionable" thing. And sometimes, it's very clearly there.
Candra
Mm ok
Candra
Where should my focal point be?
Scelana
Kinda new to having my pup and lack of being able to sense where he's at when he's not touching me makes some interactions more difficult i imagine. Been able to hear him thankfully though.
Rainsong
At – and then between – the fingertips. But, again, be sure to blink. And it helps if the background behind your hands is not lit up.
Scelana
Why ya call em puppy winds?
Rainsong
The term came from a novella, originally. In that book, the doggy-construct was made of air-based oomph
Scelana
Ahhh
Scelana
Guessing fire of some sort with Galliard
Rainsong
Probably.
Rainsong
Especially if your instructors favour elemental workings.
Scelana
I dunno what they prefer
Scelana
Though the burny makes me think not of typical fire
Candra
Tried the first one now that I'm at home, that's trippy. Feels like breaching through soft invisible walls
Rainsong
Candra: Excellent. That one worked on the first try, then.
Rainsong
It's a bizarre sensation, isn't it?
Candra
Yeah
Candra
I'm nearsighted, so my other senses probably work better
Rainsong
In past classes – I've taught these exercises many, many times – it's normally taken days or weeks of practice before everyone got them to work. So it's weird, but nice, that everyone had some success tonight. 😀
Candra
Considering the visual one isn't succeeding at all for me, you can take comfort that it isn't completely abnormal
Rainsong
LOL It's all good.
Scelana
I'm more surprised that the way I usually scan actually worked when I wanted to take a looksie for 1st time in months
Rainsong
Some people use one sense exclusively for scanning. Some prefer to combine them. The Therapeutic Touch people almost exclusively use "touch" for their stuff… as I suppose the name implies.
Candra
So what is scanning used for?
Rainsong
Lots of things. It's used for finding "clumps" and other irregularities to be cleared when starting a healing procedure, for example. When I work on my boss's migraines, I start by clearing up any congestion in her field, and then the rest of the procedure is easier.
Scelana
I'm beginning to wonder if stuff I've been trying based on a theory I self developed after hearing recent scan results is actually helping cause I've had small moments where my impaired senses function in some manner since I started the thing I'm trying hehe
Rainsong
It's used for checking one's Shields, to see if there are any weak spots or worn-out bits.
Candra
Ah
Rainsong
It's used to check the field for connections that shouldn't be there and for debris, for example, after spending time at the mall on Christmas Eve.
Rainsong
Sometimes, people want a scan of their field, just to know what its shape and consistency is. For reasons.
Candra
So something that takes a long while to master
Rainsong
The basics – as are used in Therapeutic Touch, for example – can be mastered in an afternoon.
Rainsong
The complicated interpretive stuff can take years.
Candra
Mmm ok
Rainsong
When the exercises have taken days or weeks, it's normally just a bit of practice per day.
Rainsong
A Therapeutic Touch seminar is an intensive two-day, all day thing.
Scelana
wonders what the lines were that she saw earlier
Rainsong
You might want to sketch them out, to ask your instructors about.
Rainsong
They may have been associated with the form of your shielding.
Rainsong
Or there could be other explanations for them.
Scelana
They seemed to fit in the shape of area i was looking at and seemed like they were internal
Scelana
They possibly pathways?
Rainsong
Here's a basic meridian chart. Did it look like this, more or less?
https://upload.wikimedia.org/wikipedia/commons/thumb/f/fc/Chinese_meridians.JPG/1200px-Chinese_meridians.JPG
Scelana
Hmmm The curve of the blueish one in the shoulder area kinda similar especially to the outermost line i saw but i saw like 4 maybe 5 vertical like lines in the area and at least one horizontal like line nearer to the top of what I was seeing
Scelana
I think I have seen my newest shield though, got a glimpse of it round when I 1st decided to reforge it. Looks very interesting to me
Rainsong
Good stuff 😀
Scelana
To me he looks like a big hollow sphere bout maybe 1m radius that's colored all over with blue, purple and black areas and spins back and forth along the vertical axis while the shield kinda pulses movement wise kinda in and out rhythmically
Rainsong
Cool. Why not make a note of that, and see if he looks the same tomorrow?
Scelana
I saw him a few days ago I've actually not tried looking at him since, though now I'm curious hehe
Scelana
According to my notes I saw him on the 15th
Rainsong
Taking notes about these things makes a difference… tells your subconscious or whatever, that paying attention to the signals that we pick up when scanning is important.
Scelana
These particular notes are mainly for trying help figure out what's causing my impaired senses
Rainsong
I know you have some difficulties in note-taking, but it doesn't matter how the notes are taken, or how legible they are, or if they are done in sketches in crayon… Just doing it is what makes the difference. Being able to go back and compare later is useful, but the main part is the act of "taking notice"
Rainsong
nods
Scelana
Im supposed to take note of whenever my impaired senses function at all, time and what I was doing and I also think what I saw
Scelana
I'm using gedit for windows to type em down
Scelana
So today I need to write in those notes cause my impaired senses did function
Rainsong
😀 Good stuff
Scelana
Till today the latest note was when I ticked off my teacher's dog who has been mother henning me at times and she gave me a clear warning to cut the attitude I had rolled my eyes one too many times that day Monthly hormones can make me a bit moody hehe
Rainsong
heh
Scelana
Let's just say sensing a teeth showing cranky dog just right by right side of my face and hearing growling definitely sends a clear message And I figured I better get up and go eat like she was trying to get me to do in the 1st place
Scelana
I did apologize to her later on for my attitude and behavior
Rainsong
😀
Scelana
That all happened on the 18th
Flux
Just got home and went through what was written. Good stuff. I got two new techniques out of it. Thanks for putting this up here.
Rainsong
I'm glad if you liked it.